This guide will provide two scenarios for setting up QoS. One of the main reasons users enable bandwidth management (QoS) is to prioritize VoIP traffic. This guide will provide instructions on creating a QoS rule to prioritize VoIP as well as prioritizing traffic for specific device(s). The Zyxel routers can only prioritize outgoing internet traffic; they cannot prioritize incoming internet traffic.
Supported Devices
ATP100
ATP100W
ATP200
ATP500
ATP700
ATP800
VPN50
VPN100
VPN300
VPN1000
USG FLEX 100
USG FLEX 100W
UGS FLEX 200
USG FLEX 500
USG FLEX 700
Enabling BWM
Login to the router's web configuration page and go to menu, Configuration(

) → BWM. Check the box to enable the bandwidth management (Enable BWM) feature and apply the settings.


All rules created by user will have a higher priority, depending on user configuration. All other traffic will have a priority of 7 based on the default BWM rule.
QoS based on service
To create a bandwidth management rule allowing VoIP traffic priority, click the Add button.
Under the "Criteria" option(s) for the BWM rule scroll down to the Service Object option and select SIP
Scroll down to the "Bandwidth Shaping" option and set the Priority to 1 (highest priority)
Leave all other fields on default

If you are using a proprietary service port, you will need to first create the service port object. Go to Configuration(

) → Object → Service and click the Add button to insert and object for proprietary port number.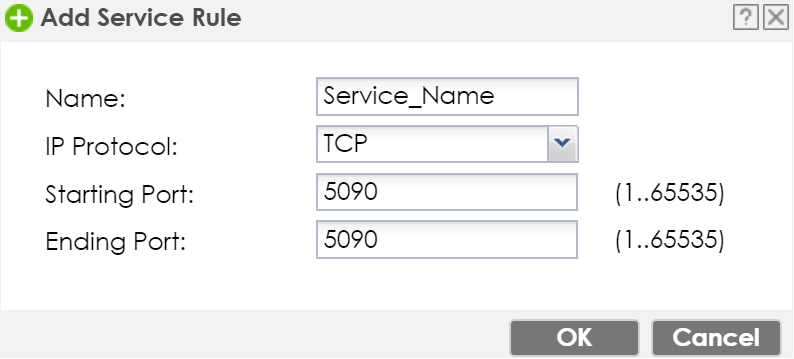 Once you have created the object for the service port you can create the BWM rule to use prioritize this port.
QoS rule based on IP
To allow a specific device priority based on its IP address we must first create the address object. Go to Configuration(

) → Object → Address/Geo IP and click the Add button to insert the IP address entry for the device.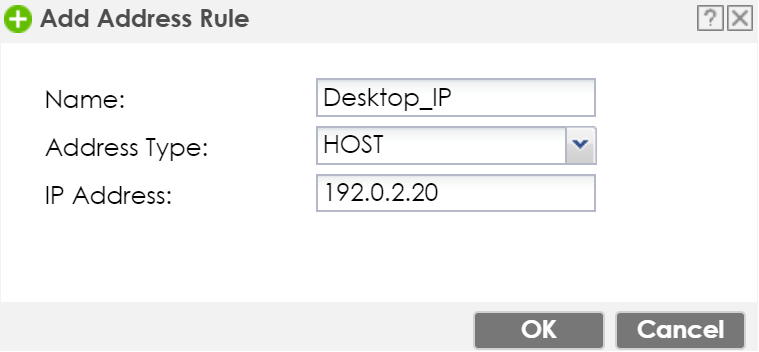 Now that the address object has been created, we can create the BWM rule to prioritize all traffic from the device.
For the Incoming Interface field under the "Criteria" select GE4 (this is the internal interface the device is connected to on the router)
For the Outgoing Interface field select the appropriate WAN connection to apply the bandwidth management priority through all WAN connections.
For the Source field select the address object you created for the device IP (Desktop_IP based on this guide)
Scroll down to the Bandwidth Shaping and set the priority (1 being the highest)