This guide provides instructions on disabling the ZLD appliance DHCP server services.
Supported Devices
ZyWALL 110
ZyWALL 310
ZyWALL 1100
USG40
USG40W
USG60
USG60W
USG110
USG210
USG310
USG1100
USG1900
USG20-VPN
USG20W-VPN
USG2200-VPN
UAG2100
UAG4100
UAG5100
Identify Interface
ZLD appliances supports multiple internal interfaces, LAN1, LAN2, etc., each interface uses its own DHCP server.  Before we can disable the DHCP server we must first identify the interface we wish to disable the feature for. From the ZLD appliance WebUI go to menu, Configuration → Network → Interface and select the Ethernet tab.  Here you will find a list of the built-in interfaces.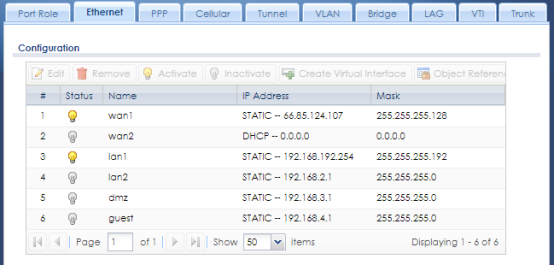 Disable DHCP Server
To disable the DHCP server service you can double-click the interface, or, select the interface to highlight it and click the Edit button across the top of the list.  Either option will open the interface editor.  Scroll down the editor window to find the "DHCP Setting" section. Click the dropdown for 'DHCP' and select NONE.  Click the OK button at the bottom of the editor window to save/apply the changes.