Overview
Even though you configure a maximum rate of an individual ADSL port by modifying its profile or assigning the port to a different profile, due to noise and other factors on the line the actual rate may not reach the maximum that is specified.  You can specify arbitrary numbers in the set profile command, but, the actual rate is always a multiple of 32 Kbps for the G.dmt, ANSI T1.413 and G.lite ADSL standards or a multiple of 4 Kbps for the ADSL2/2+ standards.
Note that when you configure an ADSL port, the upstream rate must be less than or equal to the downstream rate.  Note also that the list port command displays the configured parameters of the ADSL port, while the show port command displays the actual rates.
Supported Devices
MSC1024GB
MSC1024GC
MSC1224GB
ALC1248G-51C
ALC1272G-51
ALC1348G-51C
ALC1372G-51
VLC1424G-56
VLC1348G-51
VLC1548G-53
SLC1348G-22
VOP1372G-61
xDSL Profile Setup
To configure a profile on the DSLAM please open the device web configuration page.  Profiles are used to provide different speeds depending on subscription.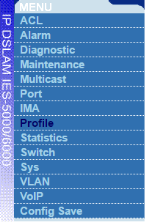 Click the ADSL sub category to create profiles for ADSL2/2+ connections.


Provide a name for the profile and fill in the information based on your desired specifications.  Main info that needs to be configured is min and max upstream and downstream speeds.  SNR margins depends on the quality of the telco lines and further testing on the wiring will need to be done before signal to noise ratios can be configured.