Overview
Updating the firmware/software on networking equipment is essential.  Firmware/Software patches can update hardware drivers and/or patch software bugs.  These update can enhance the performance of the device or provide better security to help keep data flowing through it secure.
Before uploading any firmware patch on an EMG device please verify that you are using the correct patch revision.  Updating the incorrect patch may cause service issues and/or brick the device.  For example: if your EMG3425-Q10A device is running firmware version 1.00(AAYJ.3), only update it with other AAYJ patches.
Supported Devices
EMG1302-R10A
EMG2306-R10A
EMG2926-Q10A
EMG3425-Q10A
Firmware Upgrade
Access your router's web configuration screen by opening a web browser (Internet Explorer, Firefox, etc.) and enter your router's configuration address on the address bar (http://<EMG_IP_Address>).  Enter the administrator credentials when prompted and login.  Default ZyXEL credentials are admin/1234, this information may be different if device is running custom ISP (Internet Service Provider) settings.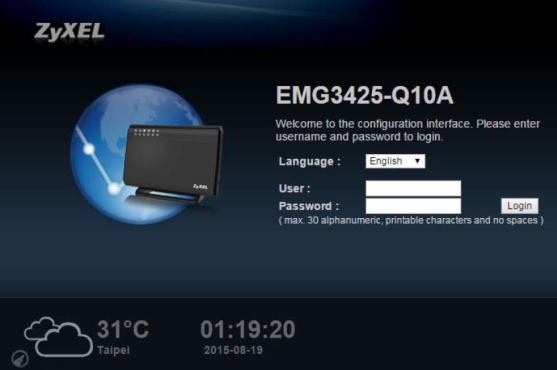 To upgrade the firmware/software on the router you must have a direct Ethernet connection between your computer and one of the routers LAN ports (Yellow Ports).  If your computer has wireless built-in make sure you disable or turn OFF the wireless card (check your computer manual for instructions on how to turn OFF the wireless card).
Please visit our FTP site, ftp://ftp.us.zyxel.com, to download firmware for your router.
On the FTP site scroll through the directories to find directory for your product model.  (Ex:  EMG3425-Q10A)
On your products directory click on the "Firmware" sub-directory to find the list of all firmware revisions available for your device.  It is recommended that you run the firmware updates incrementally for best results.  (Ex:  if your router is on firmware version 1.00(AAYJ.3) you will need to update to firmware version 1.00(AAYJ.4), and so on)
Download all the firmware files you need to update and extract the BIN file(s) to your Desktop.
Open your web browser and access the routers Web Interface.  (Please do NOT use the "Safari" web browser to update the firmware on your router)
On the router's Web Interface click on the "Maintenance" menu option on the far left ().  To the right of the icons on the far left you will see an option for maintenance with a "+" sign next to it.  Click the "+" to see all the options. Click on the "Firmware Upgrade" menu option.

Click the Choose File button to search for the BIN file on the Desktop directory.  Select the BIN upgrade file and open.

You will see the file name next to the browse button once it's been open, click the Upload button to start the upgrade.  The firmware upgrade process takes about 2 minutes.  Repeat steps 7-9 if you have to perform multiple firmware upgrades.