This article references the use and creation of user accounts on ZLD appliances.
Overview
A user account defines the privileges of a user logged into the ZLD appliance. User accounts can be used to control access to configuration and services in the ZLD device.
What type of accounts are supported?
Below is a table showing the account types that can be created on the ZLD appliance and what service(s) they can be used with.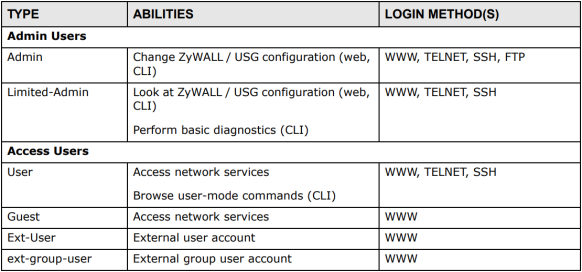 Supported Devices
ZyWALL 110
ZyWALL 310
ZyWALL 1100
USG40/40W
USG60/60W
USG110
USG210
USG310
USG1100
USG1900
USG20-VPN
USG20W-VPN
USG2200-VPN
UAG2100
UAG4100
UAG5100
NXC2500
NXC5500
Creating an Account
To create an account login to the ZLD device WebUI and access menu, Configuration → Objects → User/Group.  From the User tab, click the Add button to insert a new account.
User Name – provide a username for the account.
User Type – specify the account privilege type (user, admin, limited-admin, etc.).
Password – provide a password for the new user account.
Retype – confirm the password.
Description – you can provide a description for the account, this is optional.
Authentication Timeout Settings – by default user accounts have a 1440-minute lease and reauthentication timer.  You can select "Use Manual Settings" to specify your own timeout periods.
Click OK to save the settings and create the account.

Additionally, a group can be created to bundle like accounts.  This can save time when adding user accounts to services, especially if account list is extensive.  To create a user group, go to Configuration → Object → User/Group and select the Group tab.  Click the Add button to insert a group entry.
Name – provide a name for the group entry.
Description – provide an optional description of the group.
Member List – add users from the "Available" list to the "Member" list.
Click OK to save the group setup.

By default, any account added will use 1440-minute timeout period for lease and re-authentication.  If you wish to change the default setting so that all accounts you add have a shorter timeout value you can make the necessary changes in, Configuration → Object → User/Group and select the Setting tab.  From here you can change the timeout values for the different account types (admin, user, limited-admin, etc.).